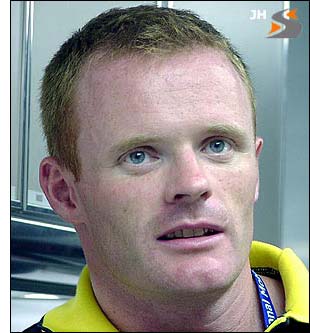 Robin, Peter Baron said in the Orbit interview with TWK (which John Hindhaugh read over the PA system while you were out qualifying today) about your driving around Trois Rivieres: "To do the times he is doing, at this track, Robin is absolutely heroic."
It's nice to get recognition – for the simple reason that, and it's not an ego thing, you know in your heart that you're doing as good a job as some of the other drivers, but in the situation we have, you don't get any recognition for what you're doing.
I got more recognition for my qualifying at Trois Rivieres than I'll get probably for the whole season. That's very frustrating for an individual, so when you have that opportunity to shine, you have to grab that with both hands.
I also know how tough it is for Mike (Pickup) right now, financially but also in other ways, because he's finding his feet in the series.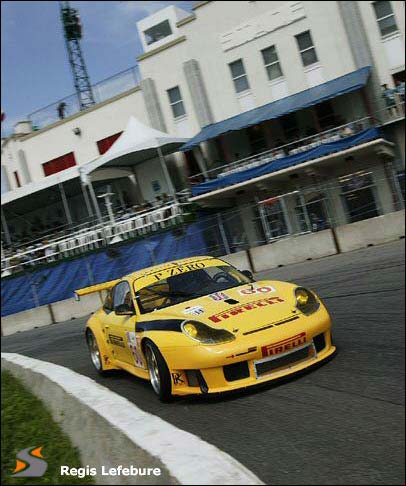 So, Robin, tell us how things have been going this season.
It's been really up and down. When we went to Le Mans, we tested and qualified with a 2001 spec engine in our car. We did pretty well – I went the fastest I'd ever done around there, and that put us, I think, fourth on the grid. Last year I never got a clear lap, and was never in the right place at the right time, but this year we were down 12 or 15 Ks on last year and yet we did a better time.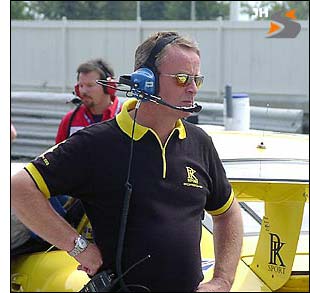 So, the first time we had an engine from Porsche it was for the race, and when I drove the car on Thursday, in second qualifying – Mike likes to use second qualifying to work exclusively on race setup, and not use the morning warmup – we were all pretty excited, and I went out and drove it, and when I came back Mike asked "What was it like?" and honestly I couldn't feel any improvement. The experience I had had a couple of years ago when I drove for Freisinger with Ortelli, when we put the race engine in it was like night and day – you could feel the difference right away. We didn't have that at Le Mans.
Then we went to Road Atlanta, and we didn't have a factory engine from Porsche NA, so we went back to the 2001 engine, so that was a bit of a washout. The team wasn't really ready for that weekend, so afterwards we had to sit down and regroup, get our heads around the series. No excuses; all the other teams had to do the relocation, too. We had to raise our game.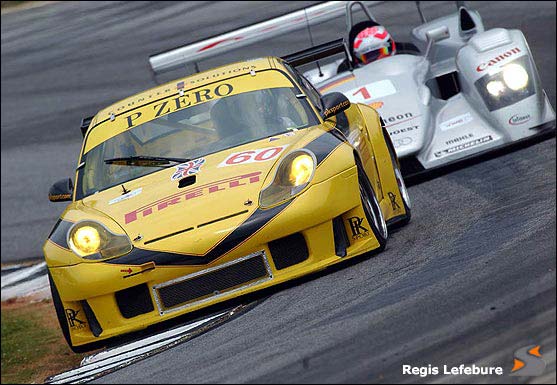 By the time Sears came along, the team was operating a lot better – but we couldn't get the car working, and that was the truth. Now, I went off in qualifying, and shunted quite heavily; I was lucky I hadn't damaged the chassis, and the guys did a great job getting the car done and out there for the warmup and the race – and the car was basically no different in the race from how it had been in qualifying. So it wasn't like we struggled because of the shunt – we never had the pace in the first place.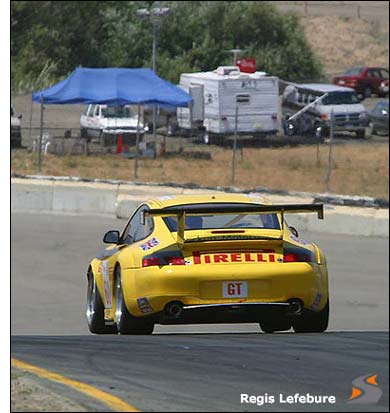 We struggled fundamentally with rear-end grip, and never had the balance right on the car. In the first session, we were fourth quickest, and thought "hmm, that's not bad;" the problem was, we'd found the limit of the car that first session, while everyone else stepped forward. I was just hustling the car in qualifying, which is kind of against my principles as a driver. When a car is good, I'm happy to do that – like I did at Trois Rivieres, where I did one of the best qualifying laps I'd done in my life. I felt a lot of elation when I did that, because I knew I'd done a fantastic job and it was as good as I could have done.
The difference between that and Sears Point was that at Sears I was hanging on to the car, and I never really like to push the car that much. Your balls are in your mouth, and I don't care who you are, there's no one who can drive a car consistently that way for any length of time before they make a mistake. And I was just pushing it too hard, and got outside, and that's how my shunt happened.
All that was by-the-by, as Alex got pushed off in the race, and I think that was a combination of bad luck and perhaps a bit of rookie inexperience. It was clear that the Panoz did something to Alex, but Alex might have avoided being in a position where he was vulnerable. I've raced in series where I'm in the lead class, lapping everyone, and I've raced where I've been in the slower class, getting lapped all the time, and this is actually harder. A lot of prototype guys don't appreciate this until they've driven in the lower classes, like JJ Lehto in the BMW, or Brabs and Mags now. I don't care what anybody says, it's easier to drive a car that has grip than it is to drive one with less grip. You can see that the experienced guys, that they can read the traffic. Alex just needs time, but he's learning it quickly, and you can see that – he's very talented, and a quick driver.
So how's the car now?
Well, the truth of it is that the car is what it is – we have the package, we take it to the circuit, all of them being new to us, put it on the track and work from there. It just so happened that at Trois Rivieres it was working pretty well, but at Sears it wasn't, and neither was it at Road Atlanta. Here at Mosport, it's working not too badly, but it's unfortunate that we lost the entire morning session, and we're not going to set the world alight.
Where do you see the biggest gains coming from?
The biggest thing that's lacking right now is the damper technology on that car. There's so much development that can be done, these days. Porsches have a tendency to porpoise, and the wheels move about so much that you really need to work very hard on the car to get the suspension right. Basically that's where we could improve our package the most.
We're very happy with our Pirelli tires, and we've got the factory motor now, which is good. Our chassis is a Ricardo chassis with the stiffened shell, same as J3 have, so it's good, but we're not working the tires correctly – so we either have a grip problem or an imbalance in the car. When we change the springs, though, we then get out of the range of the dampers, so then we've only got springs. Then what you have is a car that's doing this – waggles hand back and forth – and that's what we have, that's how it feels. What I think we need to do, whilst I think the car needs to be stiffer overall in some way, is to soften the spring so that the dampers are having an effect, and then run bump rubbers and packers to control the movement of the car. I've run bump rubbers and packers before with some success, but they're a bit of a black art. But then what you could have is a car that uses the springs in slow corners, but in high speed corners the rubbers would just stop the movement and hold the car stiff. There's a mechanic on the other car, Dennis, a good guy with some engineering knowledge, who seems to be thinking along the same lines. I've brought it up with Mike, so we'll see whether that goes anywhere…
The reality is, though, that I'm not an engineer. I've pretty much engineered that car for the last two years in the sense that the team relies purely on driver feedback to set up the car – we don't have data on suspension, so they have driver feedback and tire temperatures to go on. We need an engineer who can bring engineering knowledge and experience, to be able to try different things and get a good testing program going.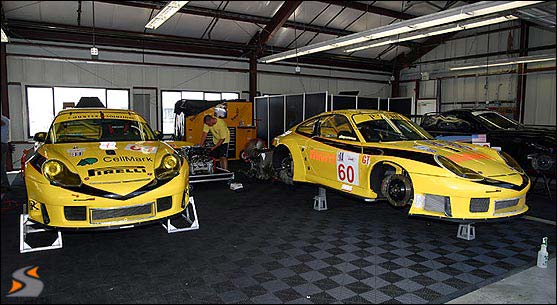 Have you considered approaching Multimatic?
There was some hope that with John Graham involved in our #61 car, that we'd be able to work out a bit of development of the cars with Multimatic. We're still hoping we can work something out, because there's no use in ignoring opportunity when it presents itself.
So what sort of testing do you foresee?
Testing unfortunately doesn't look possible in the immediate future – the truth of it is there isn't any testing available at any of the major tracks. Eppi, the Pirelli tire guy who's based in Rome, Georgia is saying to me that they've got no testing available. They can get three hours of evening time at Road Atlanta.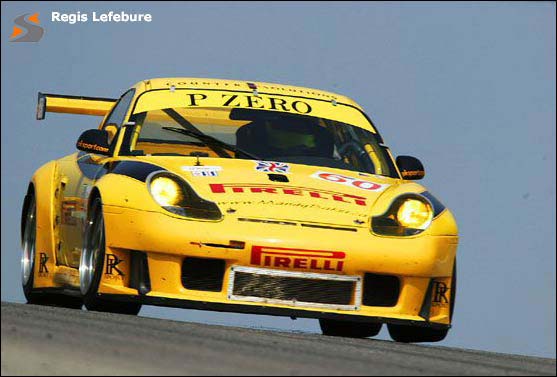 We didn't attend the test earlier this week (at Mosport) because, to be honest, I didn't see any point in coming here without some development bits to put on the car, maybe a defined test program. There's no point in coming to drive the car around for two or three days if all you're going to do is change the roll bar and go up a few clicks on the damper. We need a damper technician and engineer to come for a test for two days, with a van and dyno. and the ability to rebuild the dampers and work through a program.
You look at Job Racing, and they're two seconds up the road. It's not rocket science. They've just got a car that's going around the track faster, and there's only a number of reasons why that can be.
How do you know that it's the car, not the driver?
Alex (Davison) comes from the same Supercup and Porsche Cup background as guys like Marc Lieb, Sascha Maassen, Timo, and last year he won races there, winning in Carerra Cup, and was the top points-getter in the second half of the season, so he's capable of being as fast as the Job guys. He and I are close together, too, never being more than one or two tenths apart on either side in testing and racing.
We're all in what should be the same cars, and if you can drive a Porsche, you can drive any Porsche. It's not everyone's cup of tea, because they're a funny thing to drive – which Johnny Mowlem went on about for years, and no one ever gave him credit for it – the 911 is a hard car to drive because you physically have to pick it up by the scruff of the neck and be pretty aggressive with the car; but by the same token, if you overdrive the car slightly, it will punish you very hard in your lap times. That balance is very fine – it's a challenging car to drive on that edge. There are a lot of good drivers who jumped into a 911 and never were able to do anything.
Thanks Robin.