| | |
| --- | --- |
| Cadzow Tracks | |
Cadzow is the name of the sister club to Westove Racing Club, the Cadzow Racing Club. Entymology of the name is currently unknown, but it likely comes from a castle in Scotland.

There are three tracks. The first track was in the furnace room, and the second layout was an expansion of the first. The third track was facilitated by a move to a new room, and takes advantage of the unusual shape created by the foundation to a bay window.

The tracks are as follows:

Cadzow 63: the original 63 foot track.
Cadzow 80: the expanded 80 foot track.
Cadzow 131: the new-room 131 foot track.


More details on the way that the tracks are set up (power source, additional wiring, timing) may be found in the technical section. As well, racing rules may be found in the rules section.
| | |
| --- | --- |
| Cadzow 131 | |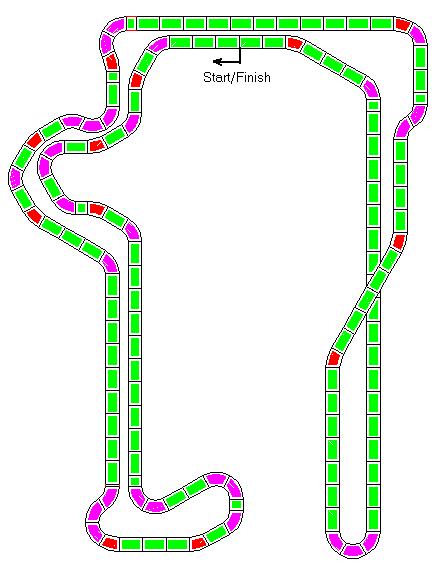 Straight 95.5
Curvature 35.5
Ratio of Curvature 27.10%
Track Opened October 77
Track Closed April 84
Track Record:
Order of Track (from Start/Finish):

| | |
| --- | --- |
| Straight | Curves |
| 11 | 1 R 30, 1 R 60 |
| 2.5 | 1 R 60, 1 L 60 |
| 4 | 1 R 30 |
| 5 | 1 L 30 |
| 7 | 3 L 60 |
| 18.5 | 1 L 60 |
| 3 | 1 L 30 |
| 5 | 1 L 60 |
| 1 | 1 L 30 |
| 1 | 1 R 60 |
| 1 | 1 R 30 |
| 1 | 2 L 60 |
| 1 | 1 L 60 |
| 0.5 | 1 R 30 |
| 1 | 1 R 60 |
| 10.5 | 2 L 60 |
| 2 | 2 R 60 |
| 0.5 | 1 R 60 |
| 1 | 1 R 30 |
| 3 | 1 R 30, 2 R 60, 1 L 60 |
| 9 | 1 L 60 |
| 3 | 1 R 30 |
| 1 | 1 R 60 |
| 1 | 1 R 30 |
| 1 | 1 R 60, 2 L 60 |
| 0.5 | 1 L 30, 2 R 60 |
| | |
| --- | --- |
| Cadzow 80 | |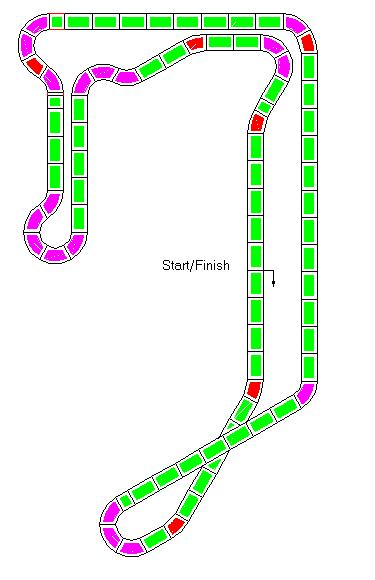 Straight 56.5
Curvature 23.5
Ratio of Curvature 29.38%
Track Opened August 76
Track Closed August 77
Track Record:
Order of Track (from Start/Finish):

| | |
| --- | --- |
| Straight | Curves |
| 9 | 1 R 30 |
| 5 | 1 R 30 |
| 1 | 3 R 60 |
| 7.5 | 1 L 60 |
| 12 | 1 L 30, 1 L 60 |
| 8 | 2 L 60, 1 L 30, 1 R 60 |
| 3.5 | 1 R 60, 4 L 60 |
| 5 | 1 R 60, 1 L 60 |
| 2 | 1 R 30 |
| 2 | 2 R 60 |
| 1.5 | 1 L 30 |
| | |
| --- | --- |
| Cadzow 63 | |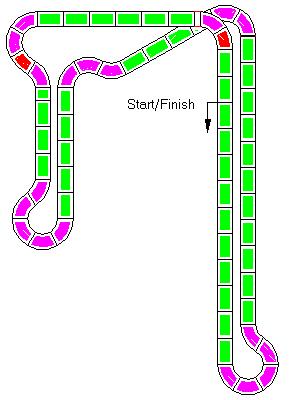 Straight 42
Curvature 21
Ratio of Curvature 33.33%
Track Opened September 73
Track Closed August 76
Track Record:
Order of Track (from Start/Finish):

| | |
| --- | --- |
| Straight | Curves |
| 4 | 2 R 60 |
| 11 | 1 L 60, 4 R 60 |
| 12 | 1 L 30, 1 L 60 |
| 6 | 2 L 60, 1 L 30, 1 R 60 |
| 3.5 | 1 R 60, 4 L 60 |
| 5 | 2 R 60, 1 L 60 |