| | |
| --- | --- |
| Donaghadee Tracks | |
Donaghadee is the secondary site for the Westove Racing Club. It is named after the home county in Ireland of the family of the track's host.
There are two tracks. The first track was in the unfinished basement. When the basement was refinished, the track was moved into a smaller room than the original layout required, and so an innovative double-deck design was required to allow an expanded track to be constructed.
The tracks are as follows:
Donaghadee 110: the original 110 foot track.
Donaghadee 165: the expanded, double-deck 165 foot track.
More details on the way that the tracks are set up (power source, additional wiring, timing) may be found in the technical section. As well, racing rules may be found in the rules section.
| | |
| --- | --- |
| Donaghadee 165 | |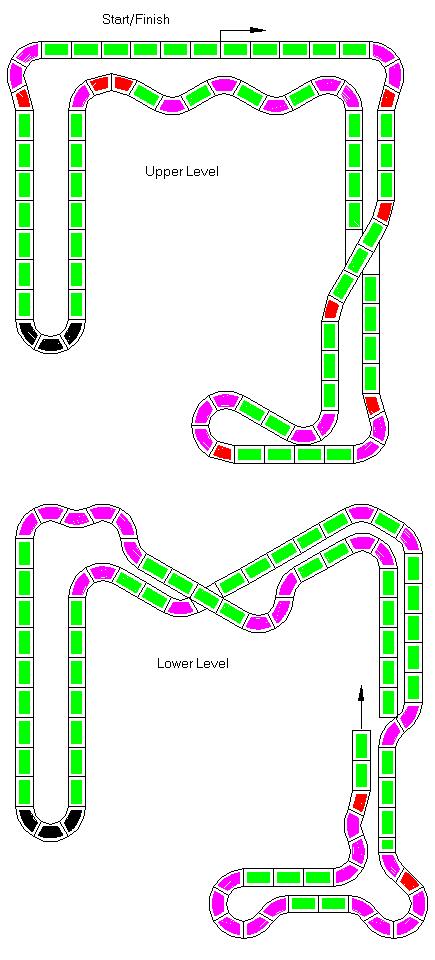 Straight 100.5
Curvature 64.5
Ratio of Curvature 39.09%
Track Opened February 5/81
Track Record: Paul Collins - November 1/84 - 2 laps - 45.4 seconds - 158.590 mph
Order of Track (from Start/Finish):

| | |
| --- | --- |
| Straight | Curves |
| 11 | 2 R 60, 1 L 30 |
| 3 | 1 R 30 |
| 3 | 1 L 30 |
| 3 | 2 R 60 |
| 2 | 3 L 60, 1 L 30 |
| 4 | 2 L 60, 1 R 30, 1 R 60 |
| Down 10 | 2 L 60 |
| 2 | 1 L 60, 2 R 60 |
| 4 | 1 R 60, 2 L 60, 1 R 60, 2 L 60 |
| 9 | 3 L 60 "Monza" |
| 7 | 2 R 60 |
| 2 | 1 L 60 |
| 6 | 1 R 60 |
| 1 | 1 R 60 |
| 5 | 1 R 60, 1 L 60 |
| 3.5 | 1 L 60, 1 R 30, 3 R 60, 1 L 60 |
| 2 | 1 L 60, 4 R 60 |
| 3 | 2 L 60, 1 R 60, 1 L 30 |
| Up 7 | 2 L 60 |
| 1 | 1 R 60 |
| 1 | 1 L 60 |
| 1 | 1 R 60 |
| 1 | 2 L 30, 1 L 60 |
| 7 | 3 R 60 "Monza" |
| 7 | 1 L 30, 2 R 60 |
| | |
| --- | --- |
| Donaghadee 110 | |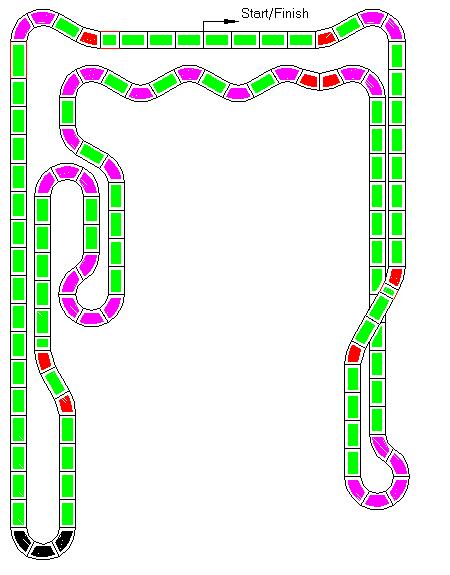 Straight 73.5
Curvature 36.5
Ratio of Curvature 33.18%
Track Opened January 29/76
Track Closed October 18/79
Track Record: David K. Ferguson - October 18/79 - 3 laps - 41.0 seconds - 175.610 mph
Order of Track (from Start/Finish):

| | |
| --- | --- |
| Straight | Curves |
| 7 | 1 L 30 |
| 1 | 2 R 60 |
| 8 | 1 R 30 |
| 2 | 1 L 30 |
| 4 | 4 L 60, 1 R 60 |
| 12 | 2 L 60, 2 R 30, 1 L 60 |
| 1 | 1 R 60 |
| 1 | 1 L 60 |
| 1 | 1 R 60 |
| 1 | 2 L 60 |
| 1 | 1 L 60 |
| 1 | 1 R 60 |
| 4 | 4 R 60, 1 L 60 |
| 2 | 3 L 60 |
| 5.5 | 1 L 30 |
| 1 | 1 R 30 |
| 4 | 3 R 60 "Monza" |
| 16 | 2 R 60 |
| 1 | 1 L 30 |