Articles
| | |
| --- | --- |
| Sebastien Bourdais at Le Mans 2004 | |
I had a chance to catch up with Sebastien Bourdais on the Friday of the Toronto Molson Indy, and wanted to give him a chance to discuss his experience at Le Mans this past June, and to provide his side of the stories in which he played a role.
What follows is a transcript of that discussion.
PC: So what did you think of the Judd engine as compared to the Peugeot?
SB: I'm still not quite sure about the level of performance between the 4 litre and 5 litre. The figures are to the advantage of the 5 litre, but we'd need one of each in different cars to see the difference. It was quite a big step up for us, to switch from the Peugeot. But we have to be thankful for Peugeot, because the team has been leaning on the money from them for the past three years, but the engine was not very good.
Read more...
| | |
| --- | --- |
| A Pause for Thought - PCM Withdraws | |
It's amazing how things change.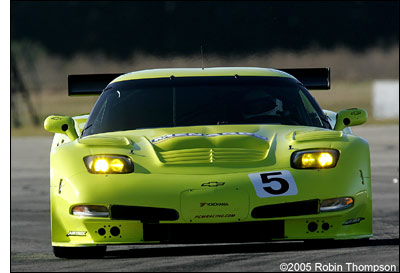 It was only seven months ago, at the Sebring Corvette test, that Tyler Tadevic was enthusing about his new C5-R, and his new sportscar program. Pacific Coast Motorsports was making the change from running Toyota Atlantic to running the American Le Mans Series, having won the Atlantic championship in convincing style from a bevy of strong challengers. They had bought a C5-R, negotiated a development contract with Yokohama, and hooked up with Menard's for sponsorship, while enlisting rising star Ryan Dalziel to partner their in-house nascent talent Alex Figge, with David Empiringham filling out the driving roster.
Read more...
| | |
| --- | --- |
| Pacific Coast Motorsports' Corvette (ALMS 2005) | |
Tyler Tadevic is a very happy man – writes Paul Collins (from Sebring).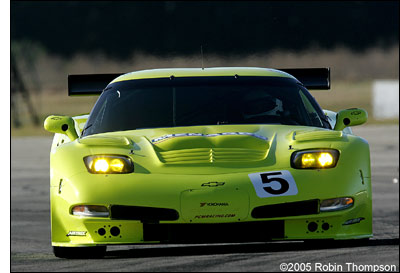 "First day with the new car, drivers who are open wheel guys just getting acquainted with a heavy fendered car with less downforce, and we're only two seconds off factory pace!" he grinned. "It's chassis 06, which ran in early 2003, but fully updated to '04 spec. Aside from the chassis, the only original part is the front aero. We have new drivetrain, motor, shocks, uprights... Pratt & Miller couldn't fit the Xtrac gearbox into this chassis, so we've got the Hewland sequential. And the tires - I can't say enough about the tires..."
Read more...
| | |
| --- | --- |
| Mosport 2004 - Improving The Trackside Experience | |
I arrived at the track late for the second year running. A year ago the region was plunged into darkness the night before the weekend started, necessitating a late start for the track; this year, more personal reasons dictated a late start. Those who have read last year's Mosport reporting (still available) will remember a photo of my daughter in the R8; she did what kids do, this year, and it required a Thursday night run to emerge for stitches. She'll be fine.
Read more...
| | |
| --- | --- |
| Robin Liddell: Insight Into Racing A Porsche (Mosport 2003) | |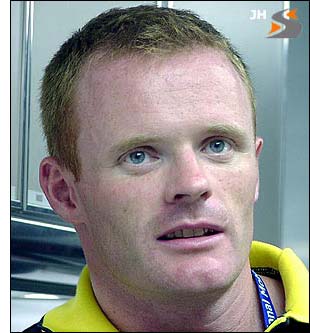 Robin, Peter Baron said in the Orbit interview with TWK (which John Hindhaugh read over the PA system while you were out qualifying today) about your driving around Trois Rivieres: "To do the times he is doing, at this track, Robin is absolutely heroic."
It's nice to get recognition – for the simple reason that, and it's not an ego thing, you know in your heart that you're doing as good a job as some of the other drivers, but in the situation we have, you don't get any recognition for what you're doing.
I got more recognition for my qualifying at Trois Rivieres than I'll get probably for the whole season. That's very frustrating for an individual, so when you have that opportunity to shine, you have to grab that with both hands.
I also know how tough it is for Mike (Pickup) right now, financially but also in other ways, because he's finding his feet in the series.
Read more...
| | |
| --- | --- |
| Mosport 2003 - A Fan's Perspective | |
ALMS – Grand Prix of Mosport
Paul Collins' View Of His Home Event - "A House Full Of Kitchen Parties"
Having arrived out of recently blacked-out Toronto, I had missed the afternoon practice of the ALMS racers, but was early enough to claim our camp territory. Unfortunately, others had arrived earlier, and claimed the best portion, leaving us downhill from our favored viewing spot.
There's no such thing as "too many race fans" in any sportscar race these days, and we were heartily encouraged by the presence of tents and campers. It was a particularly good omen given the disruption of the last two days, and the crowd would continue to grow as the weekend ripened. The traditional evening track walk would reveal that on Friday night the population exceeded last year's Saturday crowd by a healthy margin, and may have even rivaled last year's race day crowd. This number would not remain static, as Saturday's walk confirmed. The work that the ALMS and Glenn Butt at Mosport are doing appears to be working.
Read more...
| | |
| --- | --- |
| The Search For Time | |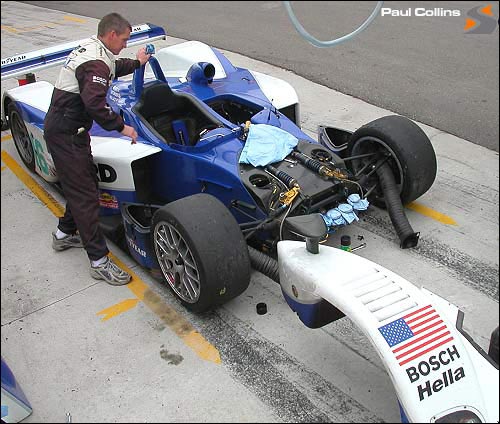 Dyson Racing was at Mosport for testing this Tuesday, Wednesday and Thursday (May 6-8). Both MG-Lola EXG257s were present, pounding around on a full slate of tests. I arrived around 9:30 on Wednesday, to meet Chris Dyson, James Weaver and Andy Wallace: I didn't see Butch Leitzinger until a little later in the morning. As I arrived, Andy was just hopping out of the car and the mechanics went to work adjusting and downloading data.
Naturally, as soon as I arrived, the #16 car had what was termed a "small water line problem," and was hauled into the garage for a little more extensive work. I was immediately dubbed the bad luck charm by the team. Meanwhile, #20 was being fettled in its garage.
Read more...
| | |
| --- | --- |
| Multimatic - Ford Focus Aerodynamic Development | |

Multimatic - Ford Focus Aero Development
This is an interesting tale, unearthed by Paul Collins, with help from Larry Holt at Multimatic.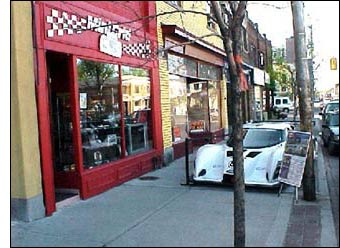 Aerodynamics is often referred to as a "black art." At the Minigrid Motorsports Meet and Greet on Thursday May 22 (in Toronto), Larry Holt of Multimatic had an interesting story to relate about the aerodynamic development of the Ford Focus Daytona Prototype – prior to the car's debut race at the Rolex 24.
Typically, before finalizing a car's shape, Multimatic would prefer to carry out some scale model and full model testing in the wind tunnel. In this case, a combination of a late start and early approval timelines imposed upon them precluded any scale model testing, and Multimatic were completing their first full-scale model when they had to submit their design to Grand American. They received approval while in the middle of wind tunnel testing of their body shape.
Read more...
| | |
| --- | --- |
| Mosport 2002 - A Fan's Perspective | |
This article originally appeared on dailysportscar. Sadly their site crash wiped out the formatting, so I've recreated it. My first publication!
Crowd / Track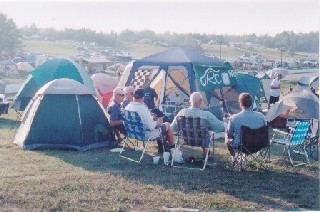 The weekend began under ominous skies and promise of little better. As we arrived, we were expecting to have to change our camping location, but discovered that our usual spot was still available. Our timing was impeccable: within 6 hours, the area all around us had become a sea of nylon and cars. Fortunately for the racing and the Sunday crowd, the weather would clear for the remainder of the weekend.
Read more...