| | |
| --- | --- |
| Race Nights | |
Race nights occur, generally, every third Thursday night. The events alternate between Donaghadee and Traill. The racing starts at a set time, and practice occurs anywhere up to an hour before the start of racing.
There are generally 4 race nights for each half of the season.
The final race night of the 2000-2001 season was held Thursday, April 19 2001. A record of that racenight has been posted in the history section.
The opening race of the 2001-2002 season is Wednesday October 3 at Donaghadee.
| | |
| --- | --- |
| Club Championship | |
Club Championships occur once a year, at the end of the racing season. They tend to attract members from all over, including those for whom the travel would prevent their regular attendance during the season.
The Championship is held on a Saturday, with racing starting at 9:30 am at Donaghadee. A full race schedule is run, and then the championship moves to Traill. After lunch, a second full race schedule is run.
If the same racer wins both halves of the Championship, he is the new Champion. Otherwise, a four-man runoff is held between the winners of each half and the top two by points. The runoff is held at Traill.
The 2001 Club Championship was held Saturday, April 21. Details of this and previous Championships may be found under the history section of this website.
| | |
| --- | --- |
| Trans Am 2002 | |
It was a decent crowd, considering it was freezing.
Otherwise, the day was wonderful, with terrific weather.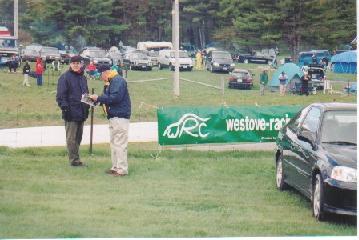 Read more...
| | |
| --- | --- |
| American Le Mans Series Weekend, Mosport, 2001 | |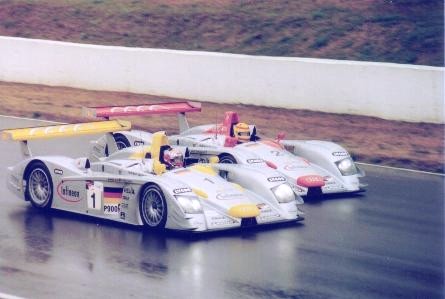 All the advertising looked to be paying off, as we arrived Friday morning to find that our favourite spot was already accommodating a number of campers. We immediately staked out our territory, and set up all the tents we had. Attendance for all three days was up compared to last year. It's unfortunate for Mosport's PR crew that the weather was uncooperative on Sunday, as I'm sure they would have had a massive crowd. It sure seemed to be building that way.
Read more...
| | |
| --- | --- |
| Trans Am 2001 | |
It was a decent crowd - sunny day, good racing.
It is with great sadness that we report the death of a Trans-Am racer on May 20, 2001. Club members Ted and Paul Collins, along with Peter White from Cadzow, were watching the race at the inside of corner 8, when it became apparent that the race had been red flagged. Driver Mike Gagliardo died when his Corvette spun between corners 1 and 2, and was hit broadside by the Panoz of Gary Longo. Our hearts go out to his family and to Gary, who was hospitalized in critical condition. For more info, click here.
Otherwise, the day was wonderful, with terrific weather. Attendees were treated to exciting racing in the FV1200, Cup Lites, Speedvision GT, Trans-Am, Formula Ford, and Canada GT Challenge.
Read more...